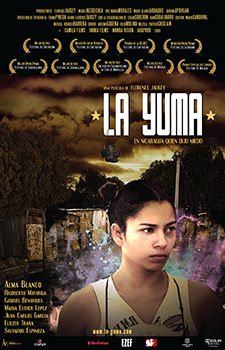 Presented in Spanish with English subtitles
Nicaragua's first full-length feature in 20 years, La Yuma tells the story of a young woman who dreams of transcending her bleak life in the slums of Managua by becoming a boxer. Looking beyond the meager possibilities that seem available to her (and ignoring the advice of her gang-member friends), she finds solace and hope in her training and falls in love with a middle-class journalism student. With an extraordinary performance by Alma Blanco as Yuma, the strength, astuteness and determination of the main character reflect the feelings of a population that faces adversity and inequality. Jaugey's film allows us the rare opportunity to get a glimpse of life in this Central American country where gender and class inequality are an everyday challenge.


Presented by: Dr. Pepa Anastasio, Hofstra University.
Part of the Fall 2017 Spanish Film Club Festival hosted by the Department of Languages, Literatures and Cultures. 
The Spanish Film Club series was made possible with the support of Pragda, SPAIN arts and culture and the Secretary of State for Culture of Spain.