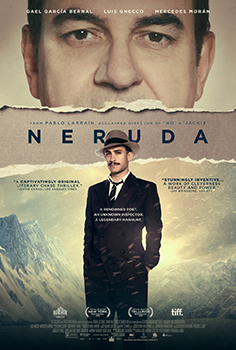 Presented in Spanish with English subtitles.
It's 1948 and the Cold War has reached Chile. In congress, Senator Pablo Neruda accuses the government of betraying the Communist Party and is swiftly impeached by President Gonzalez Videla. Police Prefect Oscar Peluchonneau is assigned to arrest the poet. Neruda tries to flee the country with his wife, the painter Delia del Carril, but they are forced into hiding. Inspired by the dramatic events of his new life as a fugitive, Neruda writes his epic collection of poems, "Canto General."


Presented by: Dr. Raysa Amador, Adelphi University.
Part of the Fall 2017 Spanish Film Club Festival hosted by the Department of Languages, Literatures and Cultures. 
The Spanish Film Club series was made possible with the support of Pragda, SPAIN arts and culture and the Secretary of State for Culture of Spain.