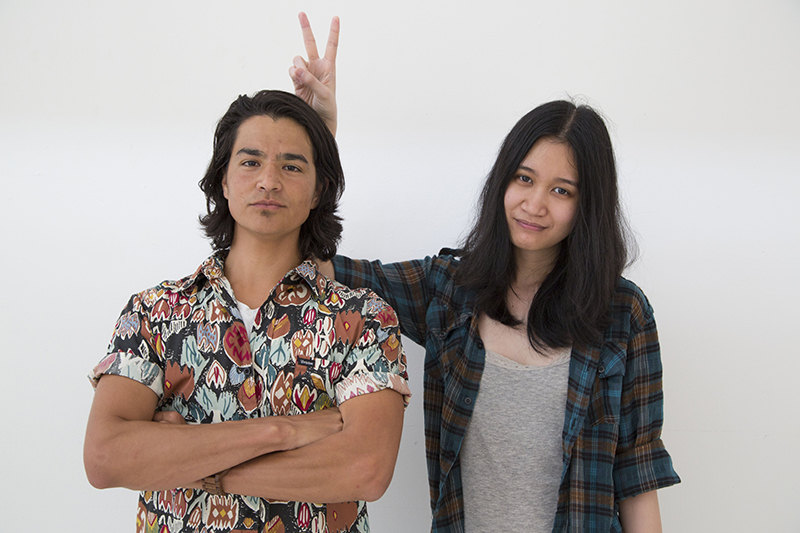 Join us for an afternoon of music showcasing the work of 2017 Jonathan Larson Grant recipients Ty Defoe and Tidtaya Sinutoke.
ABOUT:
Team Defoe-Sinutoke write about identity, spirit of place, and inspiration for future generation to come while still honoring their cultural pasts. They also write about voices who they do not hear on the "American stage" including and not limited to: Undocumented, Indigenous peoples, queerness, the earth, spirits, and anyone who identifies as artistic warriors in today's society. Encounter their unique sonic blend of shape-shifting between stories, vocal melodies, and percussive rhythms in their contemporary musical style.
JOINT BIO:
Ty Defoe (Giizhig), from the Oneida and Ojibwe Nations and Tidtaya Sinutoke (ฑิตยา สินุธก), from Thailand began their collaboration together at NYU where they received M.F.A.'s in Musical Theatre Writing. Credits: Clouds Are Pillows for the Moon (Yale Institute for Music Theatre, ASCAP Musical Theatre Workshop, Kilroy's Honorable Mention List), Hart Island Requiem (Civilians R&D), Gender Nation, Crossing Borders, Sunrise Prayer (Goodspeed Residency) and Water Is Life. Recipients of Jonathan Larson Grants, Johnny Mercer Songwriter Project, and Robert Rauschenberg Residency. Proud Members of ASCAP and Dramatists Guild.
The Larson Legacy Concert Series at Adelphi PAC celebrates the next generation of artists at the college home of the creator of the Pulitzer Prize-winning musical RENT Jonathan Larson ('82). Each year, the American Theatre Wing presents emerging creators of musical theatre with The Jonathan Larson Grants. Each year, select recipients of these grants will be showcased at Adelphi PAC in this series to help nurture and support the next generation of creative artists to carry on Jonathan Larson's legacy. Past recipients of these grants have gone on to create the Broadway musicals Dear Evan Hansen, Natasha, Pierre and the Great Comet of 1812, A Gentleman's Guide to Love and Murder, Grey Gardens, Next To Normal, Elf, Hands on a Hardbody, A Christmas Story and many more.
Tidtaya Sinutoke (ฑิตยา สินุธก) is a Thai born, NYC-based composer, writer, and musician. Her works include themes of self-discovery, gender issues, travel, social injustice and companionship. Composition credits include: Clouds Are Pillows for the Moon (Yale Institute for Music Theatre, ASCAP Musical Theatre Workshop, Kilroy's Honorable Mention List), Hart Island Requiem (Civilians R&D, EtM Con Edison Composer-in-Residence),Gender Nation, Crossing Borders (CAP21 Residency), Sunrise Prayer (Johnny Mercer Writers Colony), Water is Life (NYMF, dir. by Jonathan McCrory) and Yellow Cycle. She participated in the 2014 Composer-Librettists Studio at New Dramatists, the 2015 Johnny Mercer Songwriter Projects, the 2015 New York Foundations for the Arts (NYFA) IAM Mentoring Program, the 2016 Robert Rauschenberg Residency and the 2016-2017 EtM Con Edison Composer-in-Residence. A proud member of ASCAP, and the Dramatists Guild. MFA: NYU's Graduate Musical Theatre Writing Program. tidtayasinutoke.com
Ty Defoe (Giizhig) from the Oneida and Ojibwe Nations is book writer and lyricist. He's also a interdisciplinary artist and musician. Ty aspires to an integral approach to artistic projects, social justice, indigeneity, and environmentalism. Ty's global cultural arts and repertoire consists of: the Millennium celebration in Cairo, Egypt with the Call for Peace Drum and Dance Company; traveling throughout Greece, Japan, Turkey for the Ankara International Music Festival, and Festival of World Cultures in Dubai. Some of his favorite visits have been to his own community where he learned to hoop dance and eagle dance, and play the a variety of wooden flutes. Ty is a frequently guest artist at the National Museum of the American Indian in Washington D.C. and New York City. He has been mentored in traditional arts and storytelling from his long time mentor, Kevin Locke. Awards include: NEA/NEFA for reconstructing and indigenizing, Drum is Thunder, Flute is Wind, First American in the Arts Outstanding Performance Award, First Americans in the Arts Scholarship Award, an Indigenous Heritage Festival Award: this award is given to artists who have made a major positive impact on indigenous people and rights of the world, and recently a, Robert Rauschenberg Artist in Residence, 2016-2017 Olga J. and G. Roland Denison visiting artist Professorship of Native American Studies at Central Michigan University, 2016 Institute of the American Indian Arts Visiting Artist, and this year's Jonathan Larson Award winner with (Sinutoke). Ty created book and lyrics on Clouds Are Pillows for the Moon (with composer Tidtaya Sinutoke at Yale Institute for Musical Theatre; ASCAP Musical Theatre Workshop), Hart Island Requiem (The Civilians R&D Group), Crossing Borders (CAP 21), Red Pine (Native Voices at the Autry; IAIA of Santa Fe), The Way They Lived (Co-collaboration with The Civilians at the Met Museum), Phase 1 of Heather Henson's, Crane: On Earth, In Sky (Ibex Puppetry at La MaMa Theater, NYC, Lied Center for the Performing Arts, NE), Gender Nation, Crossing Borders (CAP21 Residency), Sunrise Prayer (Johnny Mercer Writers Colony), current commission with the New York Musical Theater festival festival, Water is Life (directed by Jonathan McCrory).
Ty is a mentor for Hawaiian Theatre Initiative, a member of East Coast Two-Spirit Society, and is a co-founder of Indigenous Direction. His writing publications can be viewed in the Pitkin Review, Woody Guthrie Anthology, the Thorny Locust Magazine, and Howl Round. He has received degrees from CalArts, Goddard College, NYU's Tisch. A Theater Communications Group Equity, Diversity, and Inclusion Fellow alumni and an artEquity facilitator. He loves the color clear, and guest appeared on Netflix show, Unbreakable Kimmy Schmidt as Young Anthony Black Elk. He is based in New York City. Proud member of Dramatist Guild and ASCAP. tydefoe.com