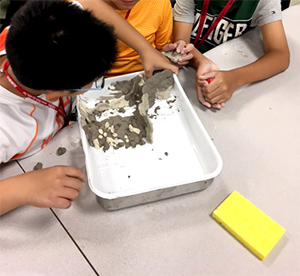 This July, Adelphi University hosted middle school students from Tsai Hsing schools in Taiwan for two weeks as part of The Marine Science Summer Institute, which aims to introduce students to American education and culture.  Students spend a total of two and a half weeks in the United States, visiting Washington, DC, Philadelphia, New York and Florida, in addition to Garden City. "Now in its eighth year, the summer institute was designed to introduce students from Taiwan to American-style education," reflects Beth Christensen, Adelphi Professor and Director of the Environmental Studies Program, who spearheads the Adelphi portion of this program.  
While at Adelphi, students live in Earl Hall, study topics pertaining to the local environment under the guidance of Adelphi Professors Christensen, Coombs and Coffey.  Lectures are complemented by experiments in Adelphi's laboratories, focusing on plastics in the marine environment, bacteria and water quality. 
"We emphasize active learning and connect content with field trips to the beach, bay and American Museum of Natural History. Students also gain an appreciation for environmental responsibility through a bay clean-up event with our partners, Operation Splash," explains Christensen.   During the evening, students work with instructors from Play People, part of Symphony Space in Manhattan, to create their own plays, culminating in performances at the end of their two weeks in Adelphi's Performing Arts Center.   
"Field experiences are essential to science education at any level," say Professor Christensen.  "I hope seeing American ecology first-hand and participating in clean-up efforts hammers home the realization that trash is everyone's problem, but a pretty simple one to address if we all help."