For many science and engineering buffs, working for NASA would be a dream come true—and for James Olsen '13, it is. "I always thought NASA and the space program were really cool and definitely dreamed of being an astronaut," he said. 
But Olsen wasn't ready to immerse himself in engineering right after high school. A self-described "math nerd who loved physics," he also played the trumpet and was interested in pursuing music and the liberal arts. 
Adelphi's five-year joint degree program offered the time to explore his interests, then proceed directly to Columbia University's engineering program. He also joined the Honors College."I think that combination was what I was looking for in a school," he said. "Adelphi would not only help me develop the skills I'd need to get a job in the future, it would also guide me in developing myself as a person," he said.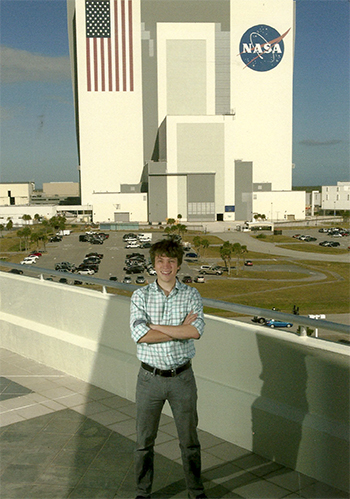 He earned his B.S. in Physics from Adelphi in 2013 and a B.S. in Electrical Engineering from Columbia in 2014."The physics courses at Adelphi were more than enough to prepare me for the engineering courses at Columbia," he said. "And the Honors College helped me learn to think critically and solve problems through intelligent discussion, which is a very useful skill in engineering that isn't necessarily taught in engineering courses." 
Olsen progressed from analog and digital circuits to creating a brain-computer interface using EEG [electroencephalography]: "You may be surprised, but simulating the firing of neurons and mapping the electrical signals in the brain is very related to what electrical engineers learn in signals and systems courses," he explains. His skills landed him an internship at  NASA's Kennedy Space Center, where he worked for two semesters. He then learned about the federal government's Pathways internship program and obtained an internship in Maryland at  NASA's Goddard Space Flight Center. 
Goddard is home to the control center for the Hubble Space Telescope and is managing the development of the upcoming James Webb Space Telescope. In addition to these large satellites, Goddard is developing small satellites, some that can fit in the palm of your hand, that conduct complex scientific measurements. Olsen designs electronic boards for these small satellites. "It feels great to be working on something that will hopefully be in space one day," he said.
Olsen is planning to complete his M.S. in Electrical Engineering from Columbia in February 2017 and then continue in a full-time position at NASA.