Kermit Frazier, an Adelphi professor of English and a prolific playwright, is know for art that doesn't shy away from difficult issues. Race-based violence, racial identity and interracial bonds, even insanity, are among the themes he has explored in the many plays he has written.
"I think plays have to deal with things that are relevant," Frazier said. "They tend to be controversial because they deal with issues that are ongoing, and issues that people don't want to deal with."
From his first play, Kernel of Sanity, which was given staged readings at the 1979 Eugene O'Neill National Playwrights Conference, Frazier has delved into topics that don't exactly make polite cocktail party conversation. In Kernel of Sanity, which was adapted from a short story of Frazier's, Roger, a young black actor, shows up at the door of Frank, an older white man, and stirs up timeless questions of identity, sanity, sexuality and the acting world itself.
Frazier's newest play, Modern Minstrelsy, focuses on the relationship between Irish Americans and African Americans. The play, which depicts the story of an African American man shooting and killing a young Irish American boy, grew out of conversations Frazier had with an Irish American friend. The play invites the audience to consider the perspectives of different marginalized groups and the societal pressures that are forced on them. While on sabbatical from Adelphi in 2011, Frazier traveled to the Caribbean, Africa and Ireland to research the play, and based the story on an actual shooting on Long Island.
Juxtaposition, a theme that runs through Frazier's work, is also a theme in his life.
Frazier never set out to be a writer. His best subject in school was math and he had ambitions in engineering. "I wasn't a reader, and I didn't write," he said. "I didn't start reading until I left high school. I never curled up with a book as a kid because I hated them."
After leaving college, Frazier was stationed in Texas with the Air Force and got a taste for acting.
"I'd never done any theater at all; I was never in a play in high school or college," Frazier said. "When I was in the Air Force I worked in a community theater. It was when I got out that I decided I wanted to be an actor."
He first pursued a Ph.D. in English in Chicago but ultimately left to pursue acting in New York. He wound up in the graduate theater program at New
York University.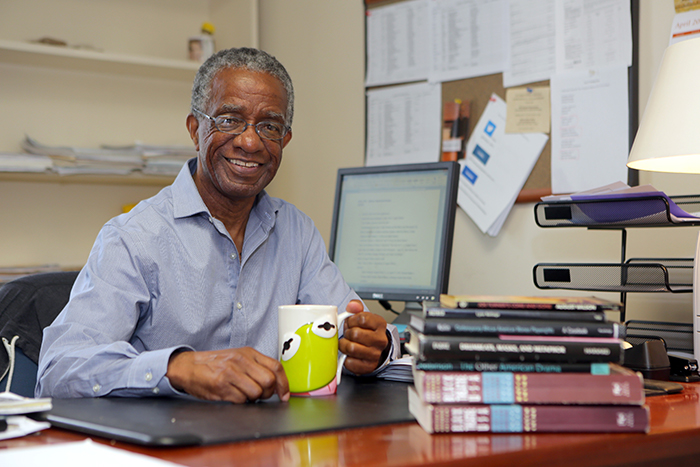 Although Frazier considers himself a playwright first and foremost, he has made a notable career in television too, including a stint as the head writer for Sesame Workshop's children's detective show, Ghostwriter. He has also written for the soap opera All My Children and the children's cartoons The Wonder Pets and The Cosby Mysteries.
"There is a lot less freedom in television, and that's why a lot of playwrights run screaming from it," Frazier said.
Frazier takes full advantage of the freedom of theater. His plays dip unflinchingly into a vast array of African American history and culture and touch on the nuances of family relationships and contemporary society's corrosive effect on them. It is the honesty of his work that has led reviewers to deem it controversial.
"It's never an aim to be controversial; a subject is a subject is a subject," Frazier said. "You could make any subject controversial in the way that you write it, or how you approach it."
Frazier made a living as a writer for 10 years, but he has also taught for the majority of his career. At Adelphi he has taught an African American drama class since 2004. "The students might not have read any African American drama before," he said. "They don't know much about the history, or about the culture, but that's what the course is for. You can't talk about the theater without talking about African American culture and politics and history."
The passion Frazier shows in the classroom is only surpassed by his urge to continue writing plays and telling stories. It is his work ethic that makes him such a strong presence in Adelphi's M.F.A. in Creative Writing program and the English department, and a role model for aspiring writers.
In the fickle world of playwriting, and writing in general, the true key to success is persistence, and Frazier has worked to create his own opportunities.
"I'd rather be in rehearsal for a play than any other place in my life," Frazier said. "That is where all of the things that I've become come out. Being in rehearsal completes the play. Writing it is great, but being in rehearsal and watching it unfold, with the disasters and the triumphs, is the exciting thing. That's why we do it, because the theater is in our blood."
About Adelphi: A modern metropolitan university with a personalized approach to higher learning.
Adelphi University is a highly awarded, nationally ranked, powerfully connected doctoral research university offering exceptional liberal arts and sciences programs and professional training with particular strength in its Core Four—Arts and Humanities, STEM and Social Sciences, the Business and Education Professions, and Health and Wellness. Adelphi is dedicated to transforming students' lives through small classes, hands-on learning and innovative ways to support student success.
Founded in Brooklyn in 1896, Adelphi is Long Island's oldest private coeducational university. Today Adelphi serves nearly 8,000 students at its beautiful main campus in Garden City, New York—just 23 miles from New York City's cultural and internship opportunities—and at dynamic learning hubs in Manhattan, the Hudson Valley and Suffolk County, and online.
More than 100,000 Adelphi graduates have gained the skills to thrive professionally as active, caring citizens, making their mark on the University, their communities and the world.