Australia Study Abroad
Study what you love in Australia with our study abroad program.
This course is offered every other summer. For more information check out our 
study abroad opportunities
. Find more information 
here.
Earth is currently experiencing a mass extinction event due to human impacts on the biosphere, leading to a biodiversity crisis. The most diverse ecosystems on the planet are tropical rain forests on land and coral reefs in the oceans. Understanding and preserving tropical rain forests and coral reefs is of key importance to prevent an even greater loss of species. Anybody who strives to pursue a career in the biological and environmental sciences or who wishes to make a difference and take action should be introduced and learn about these astonishing yet imperiled natural systems.
Adelphi in Australia is the only course offered at Adelphi that focuses entirely on field-based research and emphasizes exploring the incredible biodiversity of the Great Barrier Reef and the Australian rain forest (the Wet Tropics). It is offered both by the Biology Department and the Environmental Studies Program and is structured into two different courses: an introduction to coral reef and terrestrial ecology, geology, and oceanography (for students with limited science background), and an advanced course aimed at majors and graduate students in the respective departments.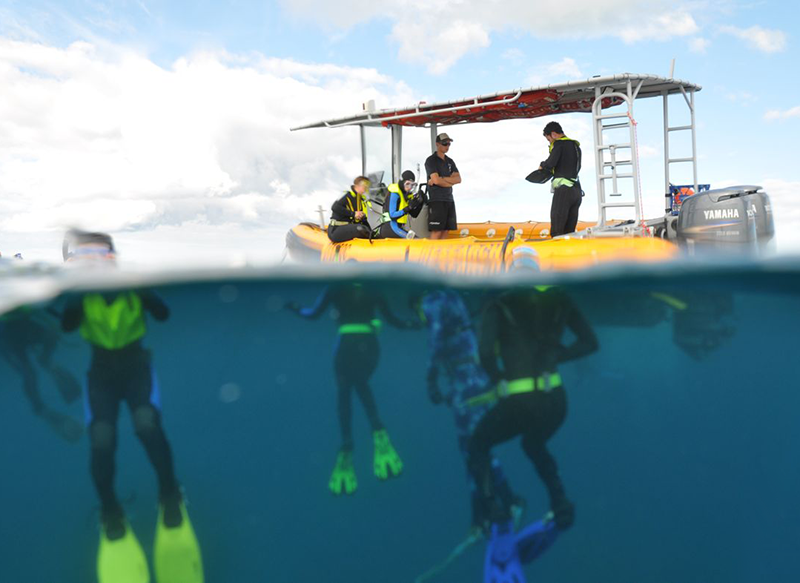 The course departs New York the fourth week of May and returns in mid-June and includes time in Cairns, in the rainforest, on Heron Island and in Sydney. The main components of the course are a 11-day stay at the Research Station of the University of Queensland on Heron Island, during which we will extensively study the coral reef biodiversity and conduct research projects involving reef systems, as well as a 6-day stay in the Wet Tropics of northern Queensland, where we explore rainforest ecosystems and address environmental problems.
During our stay we will visit two UNESCO World Heritage sites: the Great Barrier Reef and the Wet Tropics of northern Queensland, with the option to visit a third one: the Sydney Opera House.